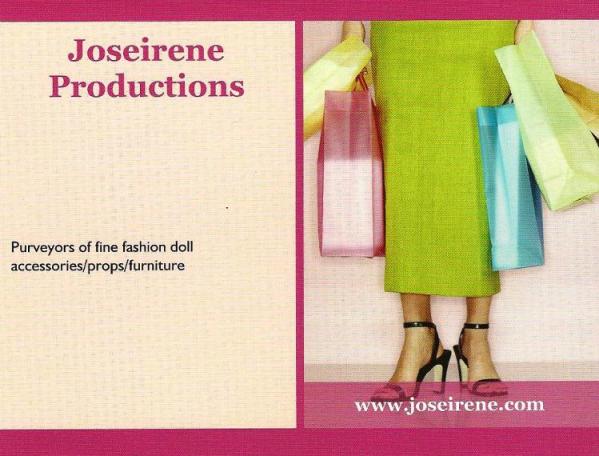 Welcome!
Specializing in fine accessories for you and your fashion dolls
Onrgoing maintenance: continuing to create a more user friendly experience, but feel free to continue browsing! Please click on pull-down menus above for item categories or other pages. Before ordering, please email with any inquiries first to check on availability. Happy Shopping/Browsing!
Hope to see you in the spring at two great New England shows: 1. The Annual Sturbridge Doll, Toy, Bear & Holiday Show on Sunday, April 2, 2017, at the Sturbridge Host Hotel. Admission: $10.00 (contact Joseirene.com for coupon for $2 off); Children 12 and under, free. For more info: 2017 Sturbridge Doll Show. 2. Spring Dedham, MA Doll, Bear, Toy & Folk Art Show on Sunday, April 9, 2017. at the Holiday Inn Hotel, Dedham, MA. More info: Collins Gifts Events Page. Both shows feature a spectacular selection of dolls, toys, teddy bears, holiday & folk art. This includes antique, collectible, fashion dolls, Barbie, Reborns & original artist dolls & bears from the 18th Century to the 21st Century, plus vintage clothing & linens, furniture, doll houses, doll parts, miniatures, toys, American Girl dolls/clothing/accessories & much more! Click for discount coupon: Doll Show USA Coupon
Looking for a gift, and not sure what to give? Gift Certificates are available in any denomination - perfect gifts for the doll lover! Email to purchase...

Visit our Events & Clubs" page in the pull-down menu upper left to find out about local doll events and clubs in MA and New England area!
Visit our page on Gifts for the Doll Collector for very special items!
All doll items come from a smoke-free environment. And feel free to post photos on the Joseirene Facebook Page or the Joseirene Pinterest Pin Page showing how you use our products in your scenes - we welcome them!
Visit Joseirene Productions's profile on Pinterest.